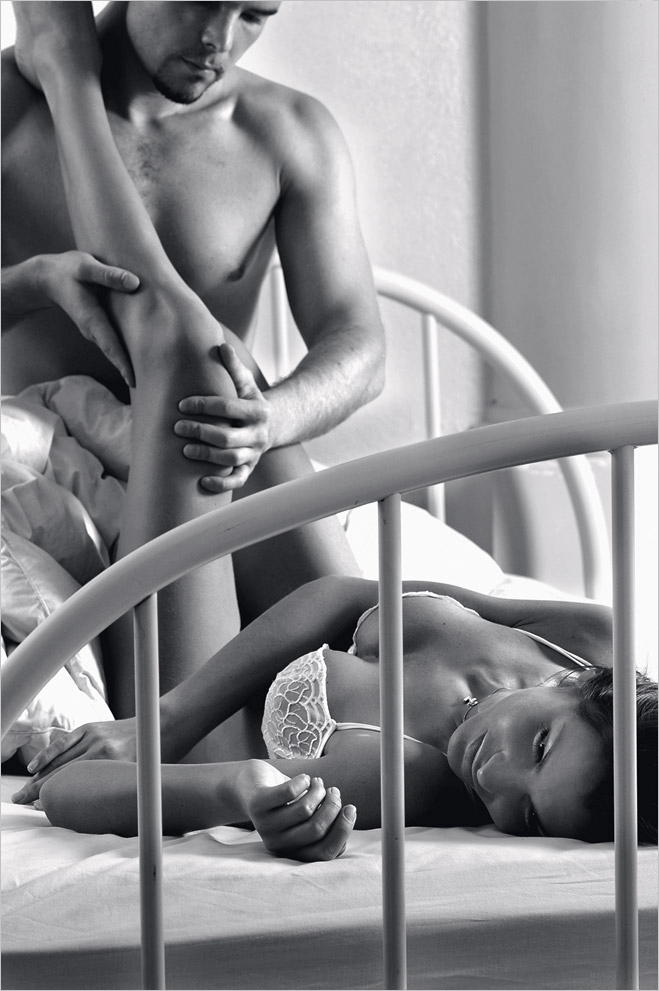 In ancient times, doctors believed that the palms and feet of a person are a mirror of health. And massaging the feet improves well-being and has a beneficial effect on almost all human organs. In the East, foot massage was considered a universal method of sexual arousal.
It's unsurprising because up to 72 thousand nerve endings are concentrated on the foot. To help relax the beloved lady, remove the headache, and even make her sexually satisfied, erotic foot massage is the key.
Preparation for the massage
It is very important to create an atmosphere of calmness and peace so that both you and your beloved one can relax.
The best choice is to take a bath or at least a shower together. This will help you to distract from daily worries and get ready for pleasure.
Ask the lady to lie on a bed or on a blanket spread on the floor. Let her close her eyes and try not to think about problems. It's your turn to act! Gently kiss her face while gently massaging her head. Kiss her lips, bite her ears. Drop a little bit of massage oil or lotion on your hand and proceed to the most interesting part – the massage itself.
Erotic foot massage: the procedure
Your "way" is from neck to legs. Try to make this tactile journey as slow as possible. Another secret we haven't mentioned yet is that you can gently or energetically massage the entire body of the lady at the beginning except for the hottest points. This is a good warming up.
If you are in a bad mood – postpone the massage. And make sure that your hands are warm – it is unlikely that cold touches will give the girl pleasure. First, pay special attention to the girl's legs. Pour a little oil on your palm and massage her legs with both hands. First, slightly tear her legs with your palms, then go the same way from the knee to the ankles, squeezing the skin a little. Gently stroke her legs, barely touching them with your palms or fingertips.
Ankles are where the hottest zone begins. Grab your hand around her ankle (a place just above the ankle) and carefully rotate to the left and to the right. Experts claim that circular movements stimulate inguinal and pelvic muscles and are even more effective than aphrodisiacs! Then, you can gently touch the ankles with your lips. This will make your lady extremely aroused.
The foot is the center of sensuality
Now massage the whole foot. Be careful for the foot massage not to turn into a banal tickle! Applying pressure with your thumb, make circular movements along the entire foot – from toes to heel. You can massage every toe and watch the lady's reaction.
It's better to choose circular pressing movements as a massage technique.
Sensitive fingers
It's time to take care of your lover's fingers. Start with the thumb of her right foot. Massage its base, then move up to the nail. Do the same with the rest of her fingers. Then, with both hands, carefully touch the area of the base of the fingers and again, but more gently caress all fingers.
Pour a little oil into your hands and repeat the same procedure, but more gently, carefully lubricating each finger separately.
Notice how your lady reacts to these caresses. Her breathing has become quicker, she is asking for more? Then change tactics urgently! Gently kiss her fingers or carefully touch each with your tongue. Take your time, let your lady enjoy it. Not a single girl can refuse such a pleasure.
Excitatory chord
At the last final stage, let your fantasy play. Your goal is to express in gestures all tenderness and love for a girl. For example, you can take a feather and caress first the legs, and then the whole body of your partner. These final moments of massage are the most amazing. And then... Ask your sweetheart to give you an erotic massage! Now she knows how to act and what you expect. Let the new technique help you relax. And your bodies will tell you what to do next.
Accessories for a foot massage
Eastern procedures do not tolerate hustle. Do not neglect these tips, and get an elementary set of tools for sensual pleasures:
Oil: there are different relaxing oils, for example:
melissa;
lavender;
mint oil.
For massage, several drops of aroma oil are added to a base oil (olive, peanut) or to massage lotion. Consider that any of them can cause irritation of the mucosa of intimate organs, so you do not need to use oil for these zones. By the way, you can buy any water-based massage cream: it is easily absorbed and does not cause irritation.
Massagers: wooden or plastic brushes are very effective when it comes to a foot massage. It's also possible to use a silk scarf. You can stroke and pinch a lover's body through a light tissue, or blindfold the lady to make all the feelings even more acute.
Ice or wine: After you rub the lady's body good enough, you can touch her shoulders and legs with a small piece of ice. The contrast of "flame and ice" is very exciting, especially in hot weather! As for wine, you can spray the body of a lover with champagne – and you will feel an incredible tide of sexual delight. Just try it, and you will understand what we are talking about.
Gentle hands
In erotic massage, a lot depends on the movement of your hands. There are three basic techniques, using which you can stimulate any piece of your beloved's body.
Pressure: no matter how gentle the massage is, you can't do it without rubbing the body. You don't have to use force. Put your hands on the lady's back and walk through the shoulder blades and lower back with circular energetic movements. When massaging the feet, press the heel areas, the outer and inner sides of the foot.
Stroking: stroking can be light, barely tangible, and more active. It is usually performed with the whole hand or palm. If you want your touches to become more sensual, stroke the body areas with the back of your palm. This technique is used every time after rubbing and pinching, at the beginning and at the very end of the massage session.
Pinching: this technique goes after rubbing and stroking. The skin is clamped between the thumb and the rest of the fingers and slightly pulled away. You can pinch the heels and the entire foot intensely, but your movements should not resemble a tickle.
Three important rules
Of course, you can express your feelings with words or in some other way. But trust us, touch language is the best way to show a girl how much you love her. Erotic foot massage does not require any special skills. That is, you only need to know the basic principles of it.
So the first rule is the absence of any rush and hustle. Imagine that you will have a fascinating erotic journey through the body of your beloved. Of course, you know where her erogenous zones are. But your goal now is to turn the whole body into a single hot area and discover the unknown.
The second rule is equally important: try not to set "global" goals. Yes, erotic stroking can be a wonderful prelude to sex, and in most cases, they end in violent ecstasy. But remember that erotic massage does not involve sex, but it is the best relaxation.
And finally, the last rule. If you often practice this type of massage, try not to repeat your actions! You can start a massage with the lady's head and neck so that she will be quickly distracted from unpleasant thoughts. You can also put your beloved on her stomach and "draw" erotic signs on her back, lower back, or buttocks. In the end, you can arrange a session of delightful foot massage – the most refined and tender caressing! Are you ready to experience this exquisite pleasure?
If you are interested in other massage types, you can try those in our agency! Our professional hotties will fulfill both your and your lady's wishes.