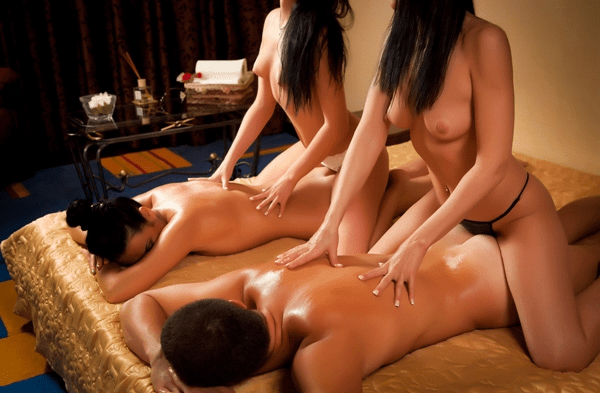 If you're a couple who want to try something new in a relationship, couples erotic massage is just what the doctor ordered. SweetTouch offers both incall and outcall services, so it's possible to select any place for the session. It can be an apartment, a hotel, or a cozy room in our massage agency. If you want to bring your relations to a completely new level, keep reading and we will tell you how couples massage can help with it.
Couples massage must-haves
The first minutes of your session will be dedicated to getting to know the masseuse (or two ladies). If there are any questions, you will be given a chance to freely ask those. SweetTouch masseuse will do everything possible to create a proper atmosphere in the room for it to be suitable for massage. There will be candles, aromas, relaxing music, muted light, etc. All participants of the massage take a shower before the fun begins.
All participants of the massage take off their clothes completely, which makes the ordinary procedure much more piquant and spicy.
So, the must-haves of the procedure are the following:
good atmosphere;
fresh bodies;
no clothes at all.
Once you and your partner are completely naked and fully relaxed, the procedure begins.
Peculiarities of the procedure
This kind of massage will help partners experience new and vivid sexual arousal, discover new facets of sexual fantasy, and get to know more about the partner's erogenous zones.
The session is based on body massage techniques (massage with a nude body, chest, abdomen) and an ordinary relaxing massage. This massage is very tender and sensual, done with skillful hands and no less skilled bodies of SweetTouch masseuses. So, how's the session going? Partners are massaged simultaneously by two masseuses. It can be compared to classical body massage, with lots of lube, and techniques aimed at relaxation. And, understandably, it ends with a happy ending for both partners. Our ladies know how to do it, believe us.
You can caress, hug, touch, the masseuse during the massage session: you get the freedom of action. It's even possible to choose from many scenarios, it all depends on your imagination and wishes. For those couples who have never tried something like that, we recommend the classic procedure. For those looking for something even hotter, additional details can be added (toys, nuru gel, BDSM items, etc.). In SweetTouch Paris, all your wishes and desires will come true!
What will we feel during the massage session?
The hands of masseuses can do miracles both to your bodies and your life. Imagine two of you are already hot, covered with fragrant oil, lying on the bed and your muscles are filled with passion. There is some cacophony of feelings in your head: arousal, jealousy, pleasure. At this moment, you will remember your passionate moments together, and you will feel a wish to be left alone again. Believe me, massage professionals will perfectly understand you without words and leave two of you alone for some time.
There are many benefits of the procedure (we'll discuss all of them later), but the most obvious plus is that you can watch your partner while the procedure. This will certainly help you to understand the needs and desires of your loved one better.
Having visited an erotic massage for couples, you will return to your honeymoon. This will undoubtedly bring something spicy into your marriage. It works even if it seems like it is impossible to save the family. People say: one more sexual partner strengthens marriage. A good erotic massage will make it possible for you to save your marriage without betraying your partner. You receive erotic pleasure together, which is a huge plus.
Benefits of the procedure
Erotic massage for a couple is a worthy choice of attentive and caring men who do not want to allow routine in a joint relationship. It also the choice of confident women who do not have feelings of jealousy and are able to entrust the body of their beloved man to another, young, but experienced lady.
Erotic massage can solve any problems of the relationship of the spouses because most of them arise against the background of dissatisfaction of both.
The main driving force of strong relations is intimate life, and under the pressure of difficult life circumstances, this sphere of relations suffers, adversely affecting all other aspects of family life.
Professional ladies in Paris know exactly how skillfully, competently, and correctly build intimate relations between spouses. They can teach the couple to communicate correctly and competently use the full potential of intimate relationships, guide them in the right direction, which, in the end, will lead to stable and full-fledged intimate relations between partners.
It is difficult to imagine how much the life of the spouses can change after that. We mean, not only their sexual life will change – the entire life will never be the same. Satisfaction will bring peace and joy to family life. Many couples, due to their shyness, and any other complexes, sometimes are completely unable to open up and tell their partner what exactly they like, and what can bring true pleasure. Although it may seem unimportant, it can be disastrous for the family.
Other benefits of this unique therapy include:
It will be easier for the lady to reach orgasms.
The lady will get rid of extra shyness (some ladies face such problems).
Your wife/girlfriend will understand your needs better. Besides, she will learn to understand her body better as well.
You will get to know how to make your lady reach the brightest orgasms ever.
You will learn to control your ejaculation better.
Both of you will feel that the sexual connection has strengthened.
Your sexual relations will be brought to a completely new level.
As you can see, this miraculous procedure can change your life and improve your health. If there are any problems between you and your partner, consider couples massage. This simple solution may become an unexpected solution for all your problems.