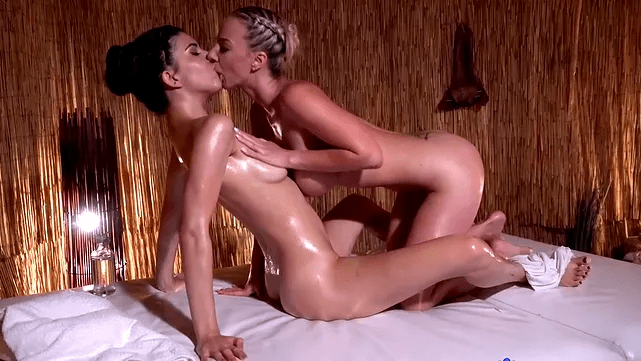 Sexual relations between non-traditional couples are in many ways similar to heterosexual contacts: there are mutual caresses of erogenous zones, numerous kisses, hugs. In a relationship between two ladies, each is well aware of what they need and like. As for sensual and erotic massages, everything is similar: nobody knows how to please a girl better than another girl.
It would seem that the ladies do not have the main tool for achieving vaginal orgasm - penis, but this doesn't influence the completeness and variety of intimate life between the two ladies. And sensual massage is the variation of it.
What lesbian massage looks like?
Sexual preferences in the form of attraction to a partner of the same sex are established from birth. Female homosexuality is an innate phenomenon. You can not become a lesbian after the same sexual experience with a representative of your own sex, even if you liked the coitus 100%. The maximum you can talk about - you are bisexual if the attraction to the opposite sex is not lost.
In a woman-woman couple, it happens that someone alone assumes the role of a stronger and more powerful partner, but there are cases of complete equality.
Sensual lesbian massage does not always imply manual caressing of the body only. There is also penetration, but using a vibrator, strapon, fingers, and other objects.
Sensual massage benefits
One of the most important advantages of sensual lesbian massage is that the fire of passion does not fade away after the lady experiences orgasm. So, the massage session may last really long.
Sensual massage that involves two ladies is characterized by plenty of love and tenderness. With the help of a tongue (lesbians use it frequently during massages), the lady can reach a peak in pleasure several times more often than during vaginal penetration. Among the advantages of lesbian massage are the following:
Women get more pleasure from oral caresses given by ladies compared to when guys do it.
Lesbian massage does not have a logical conclusion, as erection and sexual energy decline does not occur immediately after orgasm, but can last several hours in a row, constantly delighting with repeated peaks of sexual discharge.
Gentle touches of skin and intimate places give girls much more pleasant sensations than rubbing and shaking. Men almost always prefer the second option, while female partners have a clear idea of ​their desires and preferences. Besides, they are more gentle and mild creatures who understand each other perfectly.
Ladies thoroughly know their bodies, so they understand how to handle the clitoris, while guys do not always even know where it is.
It is women who are more willing to use numerous sex toys. Some men believe that additional toys are not needed.
The sensual lesbian massage technique
Speaking about the technique, it's quite similar to an ordinary sensual erotic massage. The procedure begins with a warming up, then the masseuse starts caressing the entire body without touching intimate areas first.
Once the partner is ready for more, the lady starts caressing the vagina, anus, and other areas. A great thing about sensual lesbian massage is the variety of options. Sex toys, diverse positions, reciprocal touches, various anal plugs, vibrators, costumes - all of those can be used if partners want it.
Besides, lesbians can use not their hands only during the massage. Massage with breasts, genital contact can make a procedure extremely hot, which guarantees complete satisfaction. SweetTouch sexy masseuses perfectly know how to give this massage, so come and try it yourself!